7 Easy Homemade Gifts to Give at Christmas
I decided in July that this year I was finally going to make all or at least most of my Christmas gifts handmade this year. So far I have done really well, and here are 7 easy homemade gifts to give at Christmas that you can give too!
It's time for the Thrifty Style Team to share our thrifty ideas and today is all about Christmas!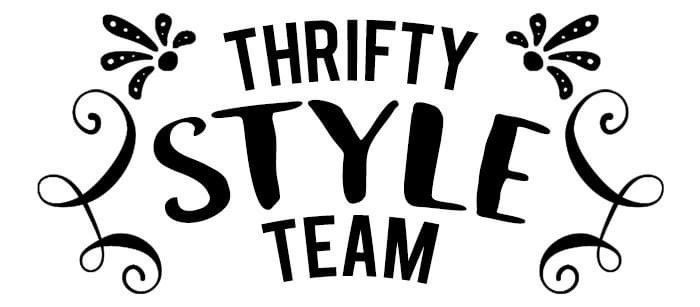 First up was this beautiful felt bookmark for the reader on your list. I made this embroidered bookmark and I love holding it and spinning it in my hand while I am reading my books! I fidget constantly and it helps me to concentrate to be able to fidget with the corners and feel the embroidery. Am I strange? Do you have to do something like that to concentrate or hold still?
How to Make a Felt Bookmark With Embroidered Initial
---
I made homemade vanilla for myself and my sisters. They were more excited about that than anything I have ever given them. It was a huge hit. I have everything you need linked in the post for you!
How to Make Homemade Vanilla Extract for Baking (Two Ingredients)
---
How beautiful are these bath bombs? They are the fizziest! This recipe is so good. I think I have perfected it!
How to Make Easy Homemade Bath Bombs – Step-by-Step Tutorial
---
How sweet is my niece? I made her earrings for her team colors with leather and I didn't use a Cricut!
How to Make Leather Earrings Without a Cricut- DIY
---
Have you seen the ingredients list on hot chocolate packets? Have you ever had a bad packet from a concession stand? Avoid all that and make your own! This recipe is creamy and rich chocolate and I have a secret for the chocolatiest hot cocoa ever!
The Best Homemade Hot Cocoa Mix
---
I made the best hostess gift baskets for my sister and friends hosting the parties and they were a hit! See how I did it and copy me!
Easy Homemade Hostess Gifts To Take To A Party
---
I call this one husband bait. You will smell like cookies and he will love it! LOL
Seriously though, I keep it in the kitchen by my sink to clean the paint off of my hands and to smell delicious!
---
I hope you love these ideas and I have linked everyone's fun and thrifty projects below! Merry Christmas!
Redhead Can Decorate – 10 Christmas Decorating Ideas That Are Almost Free
Our Crafty Mom – 17 Easy to Make DIY Ornament Ideas
I Should Be Mopping the Floor – 7 Christmas Coffee Bars
The How to Home – Last Minute Christmas Crafts and Decor DIY's
DIY Beautify – 6 Thrifty Christmas DIY's Using Wood
2 Bees in a Pod – 40 Thrifty Christmas Ideas
The Tattered Pew – 3 Natural Christmas Decorations You Can Make
Cottage on Bunker Hill – DIY A Beautiful Christmas – My Best DIY Ideas to Try
Amy Sadler Designs – 7 Easy Homemade Gifts to Give at Christmas
Songbird – Simple Ideas for Outdoor Christmas Decorations
My Family Thyme – Simple DIY Christmas Crafts
Simple Nature Decor – DIY Christmas Mason Jar Snow Globe
Zucchini Sisters – 9 Christmas Craft Ideas for Adults
Sonya Burgess – Budget Crafts From Christmas Past
---
Recent Posts
I love adding a touch of warmth and charm to my home during the holidays with rustic Christmas decor. Not only is it a relatively inexpensive style to achieve, but it also creates a cozy and inviting atmosphere. Some common elements of rustic Christmas decor include simple designs, warm colors, natural ornaments, wreaths and garlands…

Rustic Christmas decor is a great way to add a touch of warmth and charm to your home during the holidays. It is also a relatively inexpensive style to achieve, as many materials can be found in nature or at your local craft store. Some common elements of rustic Christmas decor include: I used to…

Pinecone elves are such a fun and easy holiday craft that is perfect for kids and adults alike. They are a great way to add a touch of rustic charm to your Christmas décor, and they can be made with just a few simple supplies. Gigi, my 5-year-old daughter, helped me make these and we…