How to Make a Felt Bookmark With Embroidered Initial
Today I want to talk about how to make a felt bookmark with embroidered initial.
This was my first attempt at embroidery since high school so when I say I have done embroidery before just know that it has been a minute! LOL, I am reviving my old skillset to make handmade Christmas gifts this year!
I hope you will follow along with the fun handmade gifts I have planned coming up.
What You Need for a Felt Bookmark
The supplies for an embroidered felt bookmark are simple.
Felt
Embroidery floss
Scissors
Embroidery needles
Alphabet Stamps
Side note; don't get tapestry needles. You need a sharp needle to go through craft felt and be sure your eye is big enough for the embroidery floss to pass through. A looser felt would be easier to go through. See my list of what I learned the hard way at the end!
---
How to Make an Embroidered Initial Felt Bookmark
Fold felt over to create triangles

I had square felt sheets from a Cricut project so I folded over my favorite green color meeting up corner to corner. I used my ruler as a straight edge to mark a line with pencil.

Cut felt

Cut the felt straight across on your pencil line.

Choose a stamp
I cheated and used an alphabet stamp with my initial (A).

Stamp felt

I used my Dollar Tree chalk marker to "color in" my initial stamp and pressed it on the felt

Start your embroidery

I chose the middle needle because I was guessing. LOL It worked like a charm.

Pick your spot

Start your sewing in a spot near an end that will allow you to follow the lines as far as possible.

Tie off each color

When you get to the end of your color. Turn the felt over and put your needle through the floss, hold the line with your finger and then run the needle through the loop and pull tight. That will tie off your floss so you don't have to worry about it pulling through the top and unravelling.

Next color

I drew a vine (curvy line with leaves, very fancy) and used two colors of green to trace the line with my embroidery.

Embroidered Roses

I want you to note the big ugle pink blob at the bottom of this post. I fix it in the end.
To make the rosebuds I used this beautiful pink color of embroidery thread and just made a few knots next to each other.

Put the felt together

Line up your two pieces of felt now and start on the top corner sewing through both sides end over end and always punching your needle through the bottom side and sewing upward.

When you get to the bottom edge, only sew through the top piece of the felt.

I left the backside un-sewn.

I am not proud of my lines but as I said, I haven't done this since high school.
How this felt bookmark works
As you get to the best part of your book an you can't hold your eyes open any longer, take a few pages and slide your bookmark over the pages and close the book for the night. You need sleep. This bookmark will keep your spot safe until the morning!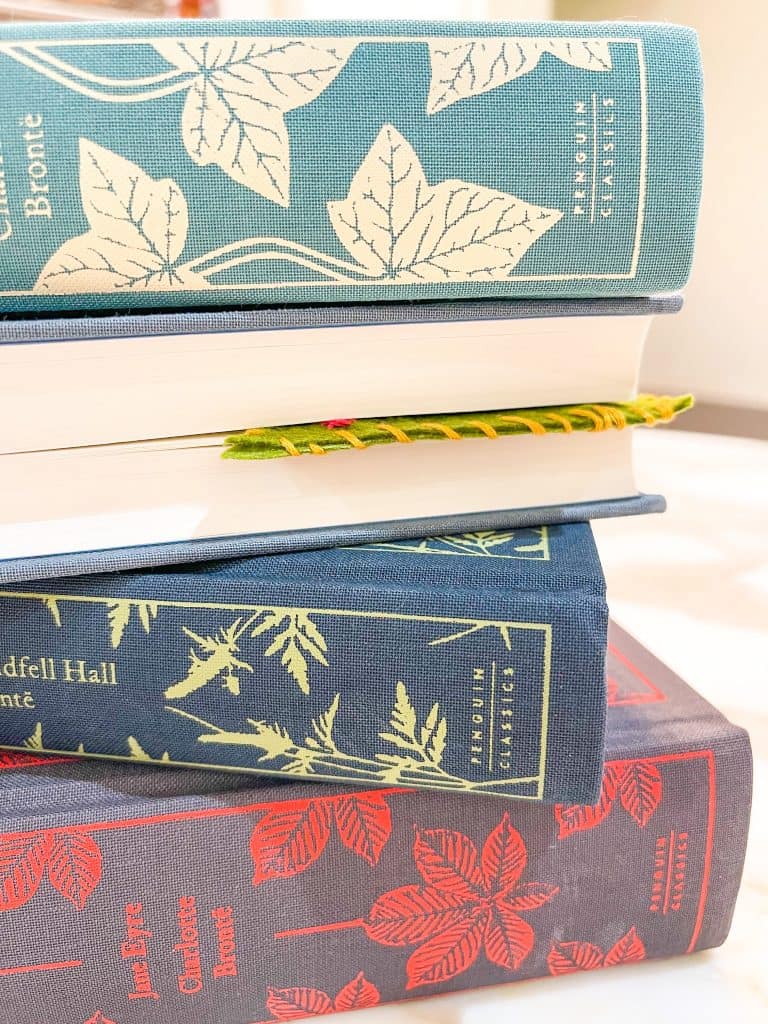 ---
I really love how this turned out. It's so sweet and I know I need improvement but I have no doubt that my next one (I am working on now) will be even better, and the next one better yet.
We don't all get it perfect the first time. I am still pretty pleased with my bookmark!
I love Wuthering Heights, but I like most of the Bronte Sister's work. This stack of books came from my friend Amy at Old Field Society. She also has candles named after some of my favorite authors as well.
---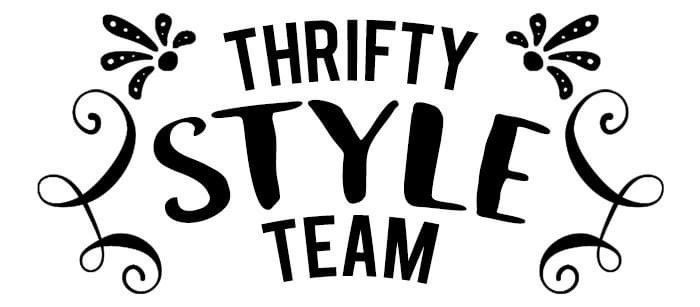 It is Thrifty Style Team Friday and if you want some fun and thrifty home decor ideas, you will find more of them at the bottom of this post! My friend Cindy has a really cool Anthro Minka Pot Dupe for Under $5.
Next in line for our thrify style team is an Olive Topiary Ballard's Dupe from 2 Bee's in a Pod. I was just thinking about adding a topiary to my fall table too. Perfect timing!
Redhead Can Decorate –Cozy Fall Corner
Our Crafty Mom –Ghost Mug Pottery Barn Dupe
I Should Be Mopping the Floor – Fall Simmer Pot Recipe
The How to Home –Dollar Store Halloween Apothecary Jars
DIY Beautify –Anthro Minka Pot Dupe for Under $5
2 Bees in a Pod –Olive Topiary Ballard's Dupe
The Tattered Pew –Simple DIY Halloween Ghost Pillow
Cottage on Bunker Hill –Where I Find Free Art to Print at Home
My Family Thyme – How to Make a Dried Hydrangea Wreath
Amy Sadler Designs –Felt Bookmark with Embroidered Initial
Songbird –Decorating Lanterns for Fall
You might Also Like
PEasy Pottery Barn Terra Cotta Pumpkin Dupe
pHow to Make a Tiered Tray Using Pumpkins