Summer Decorating Ideas on A Budget and Home Tour
Today we are highlighting Summer Decorating Ideas on a budget! Let me take you on a tour!
I don't know about you, but we are on a budget for decorating this year and I am finding it easier than I thought to make my home beautiful without spending a fortune. There are so many things you can buy in the stores, but you can DIY for that high-end designer look on a budget with a little bit of effort!
Some of my favorite DIYs are the most simple but always have a big impact, and are almost always extremely inexpensive.
Marketplace finds, and thrift stores are my first go to and I have gotten sooooo lucky recently. I found an outdoor couch and coffee table for FREE, and I am picking up a new to me bakers rack for my potted herbs today!
The outdoor furniture is well made but it is in need of some paint and I just picked up the perfect color today!
Don't you love the drive to pick up your marketplace finds?
So the heart behind everything I do is trying to make my home a place where my family loves to be and is beautiful on a budget.
Thank you to Marty at A Stroll Through Life for hosting this summer home tour, and allowing all of us a glimpse inside some of the most beautiful homes out there!
I am Amy Sadler and if you just arrived from my friend Melanie at Southern Crush at Home I want to welcome you to my home (tour)!
Outdoor Oasis before the Makeover
Patriotic Red, White, and Blue: Step into my outdoor oasis, where my free outdoor furniture is about to undergo a stunning makeover so stay tuned!
While it eagerly awaits its transformation, it's already dressed in the vibrant colors of summer: red, white, and blue. With a few simple accessories like cushions, throw pillows, and a few herbs and DIY flower pots.
Here are the step by step tutorials for the pots on the table.
Fabric Covered Flower Pots for the Garden
How To Make Terra Cotta Pots Look Vintage Using Crayola Air Dry Clay
How to Paint Pots for the 4th of July
The outdoor table is set with my favorite Blue Willow China and red tulips. Also, this citronella candle in vintage vessels and broken tea cups helps to keep the bugs away!
Mosquitos are so bad already and I have a secret weapon with the most amazing citronella oil! See my Bug Off Spray Recipe here
Here is exactly how I poured the DIY Citronella candles.
How to Make a Citronella Candle for Summer
I literally walk this stone path to my studio many times a day and it is one of the best things I have ever done! I love it and can't imagine my backyard oasis without it!
This walkway adds so much charm to my backyard. Now with the seating area and the table, I think I need to add a fireplace!
We are for sure going to add white limestone around the seating area too so that it all seamlessly goes together.
Adding a laundry clothesline as well because as we go toxic-free and I learn more and more I want to hang my towels and my jeans to dry outside as much as possible. Also, to save on energy as our energy bill has gone up dramatically this year.
European Inspired DIY Garden Walkway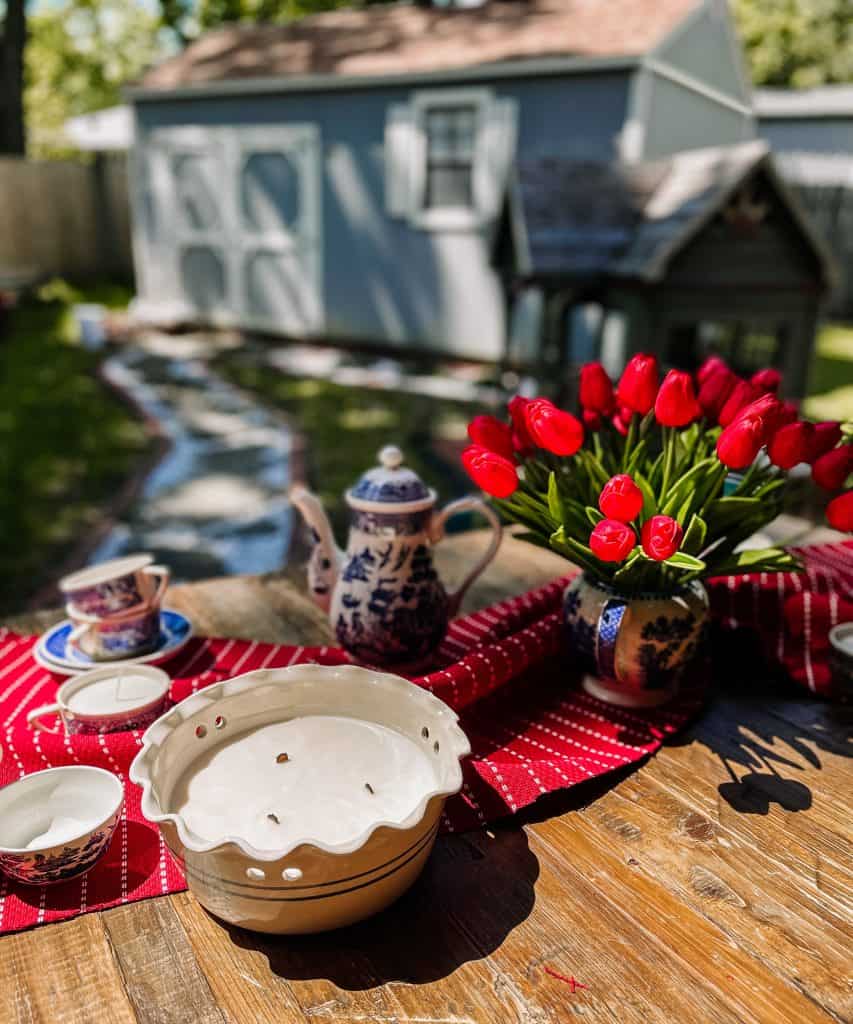 A Home that Celebrates Love: Family First
In the midst of our DIY adventures, it's important to remember the true heart of our homes—our families. Home is a sanctuary where love and connection flourish, and it's our duty to create an environment that nurtures and celebrates these precious bonds. Let's prioritize making our homes a place where our families love to be, where laughter echoes and shared memories are woven into the very fabric of our space.
As we invest time and effort in our DIY projects, let's not forget that family comes first. Take moments to gather, create together, and bask in the joy of being surrounded by loved ones.
Together, we can build a foundation of love and warmth that will forever be cherished.
It's easy to save this post to your Pinterest board right here from the image below by either hovering over it on your computer or touch the red Pinterest Logo on the image with your phone and it will automatically open your Pinterest app to save! That way you'll have it when you are ready for it!
Monday, June 5th
A Stroll Thru Life – Simply2Moms – Our Southern Home – The Tattered Pew – Whispering Pines Homestead
Tuesday, June 6th
Eleanor Rose Home – The House of Silverado – Calypso In The Country – StoneGable – My Wee Abode – Southern Home and Hospitality
Wednesday, June 7th
Worthing Court – Thrifty and Chic – The Stonybrook House – Decor To Adore – Chalking Up Success – She Gave It A Go
Thursday, June 8th
Shiplap and Shells – Pasha is Home – DIY Beautify – CitrineLiving – Thistle Key Lane – Country Road 407
Friday, June 9th
White Arrows Home – It All Started With Paint – Southern Crush at Home – Amy Sadler Designs