How To Paint The Best Black Front Door
In this blog post, we'll guide you through the process of painting the best black front door for a front porch makeover on a budget.
A front porch can be a welcoming space for visitors, a cozy retreat for reading a book, or a place to enjoy a cup of coffee in the morning. However, over time, a front porch can become worn and outdated. A quick and budget-friendly way to give your front porch a new look is by painting your front door and changing up a few things for big impact!
My friends and I are sharing some easy spring front porch ideas for you to be inspired by. I have them all linked for you at the bottom of this post.
So, if you are clicking over from Robyn's French Nest, welcome! Isn't her front porch so pretty? I love all of Robyn's tips!
Be sure to check out Regina at Saved From Salvage's post about her cozy front porch tips too!
Thank you to Wendy at WM Design House for hosting this porch party for us!
On my blog Amy Sadler Designs, I may sometimes use affiliate links, which means a small commission is earned if you make a purchase via the link. The price will be the same whether you use the affiliate link or go directly to the vendor's website using a non-affiliate link. You can find my full Disclosure Policy HERE
Why Choose a Black Front Door
---
I am a color consultant for clients in my local area that are having a hard time choosing paint colors for the interior and exterior of their homes, so I have an advantage for choosing colors.
It isn't easy for a lot of people, but because I study the colors and the styles it comes a little easier to me. It's also a passion of mine.
Choosing a black front door is a great idea for aesthetics and curb appeal, but it does come with some challenges as well.
My front door does not get any direct sun or wind because it is in a cove.
Updating the Front of My Brick House
I am debating on painting the brick this summer, but I know for sure these shutters and my post are getting painted black this spring so check back to see how the Front Porch Series progresses in the next few weeks!
Before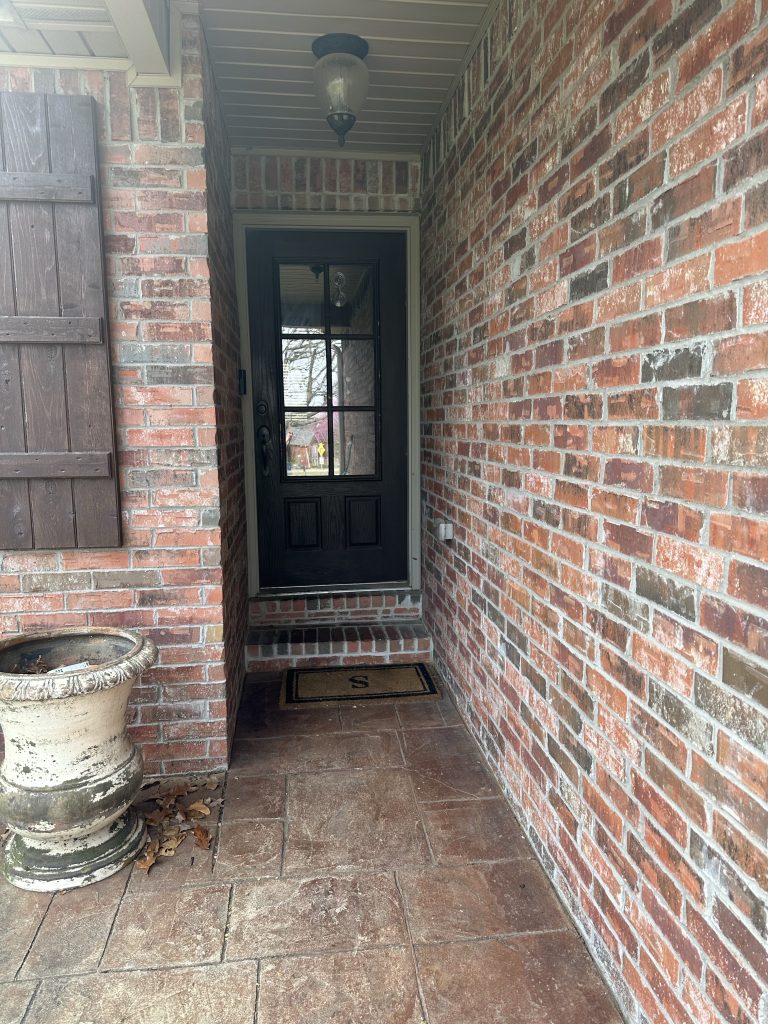 Black front door challenges
One of the challenges of a black front door (or any darker color) that is in direct sun is that it will get very hot. A black front door will fade faster in direct sun as well, but it's easy to repaint and totally worth it in my opinion for the curb appeal.
If you live in a hot climate just know that your black front door will be hot to the touch in summer.
Front Porch Series
This black front door update is part of my Front Porch Series. You can see my breakdown of projects here!
Supplies for Painting Your Glass Front Door
How to Paint the Best Black Front Door
Clean and Sand

Clean and sand any chipping paint on the door with Krud Kutter Deglosser.
Even if you think it's clean, it isn't! Clean it well.
I promise I have cleaned this door before, but it just gets filthy no matter what!
Remove any stickers that your 4 year old daughter added while daddy was "watching"! LOL

Protect Glass

If you have a glass front door, use Mask and Peel to protect the glass without having to tape everything off. It's such a time saver!
This product also acts as a primer so you can get it on the wood with no worries.
I don't cover the whole door because I am concerned about a crackle effect but not here on the trim and if by some chance it would crackle, I would just go over it with paint again in 24 hours and it would cover any crackle.

Prime

If your door is new or if it has a layer of older paint on it, prime it to be safe.
This will ensure that your new black paint will stick without any issues. Use a grey primer for painting darker colors and white for painting lighter colors.

Paint

Use exterior rated paint if your front door is in direct sun or weather.
Choose a sheen you like. I prefer a semi-gloss or satin for the front door.
Paint the door in the direction of any wood grain, or with the panels. This will help eliminate brush strokes.
Use a quality brush. I like Wooster Pro brushes.
Paint 2 to 3 coats to ensure the best coverage and adherence.


Paint inside the panel

Cutting in on a door handle

If you use a quality brush with a thin profile you can easily cut in around the door handle and lock without tape.
Use the tip of the brush with a small amount of paint and angle it at a 45 degree angle and press up to the handle and pull away. Voila! It works like a charm!


Seal

This step is important if your front door is in direct sunlight or exposed to weather.
Use a quality exterior rated clear top coat preferably with UV protection.
I am not sealing my door because it is protected and also because I know I will paint it again because that is what I do! LOL


Remove the Mask and peel from the glass

Use a straight razor or window scraper to score the mask and peel where the glass meets the door and use it to get a spot started to peel away the mask and peel. It comes off so easily.

Front Door Decor Ideas
The classic front door wreath is always a good choice when you want to Zhuzh your front porch up with something new!
Frequently Asked Questions
How do I take care of a Painted Front Door
Maintenance
To keep your front door looking its best, clean it regularly with soap and water.
Touch up any chips or scratches with touch-up paint as needed.
To make your front door paint last longer, avoid using harsh cleaning chemicals or scrubbing the paint too hard.
What are Some Finishing Touches For a Newly Painted Front Door
Once you've painted your front door black, add some finishing touches to complete the front porch makeover.
Upgrade your door hardware with a new doorknob, knocker, or kick plate.
You can add a new welcome mat to welcome visitors to your front porch for a pop of color.
Adding a small side table with a planter of colorful flowers would be a nice touch.
Add a new wreath to match as well!
Finally, add some planters and greenery to bring some color to your porch.
It's easy to save this post to your Pinterest board right here from the image below by either hovering over it on your computer or touch the red Pinterest Logo on the image with your phone and it will automatically open your Pinterest app to save! That way you'll have it when you are ready for it!
10 Front Porch Ideas
What's In My Cart

Hey there, design enthusiasts! Summer is in full swing, and I couldn't be more excited to share with you some incredible home decor inspiration from my favorite blogger friends. These projects are the epitome of summer style and have me totally inspired to refresh my own space. From beachy vibes to boho chic, these talented…

How to paint flower pots for the 4th of July and use them in unexpected ways should be the title of this post! Today is the first Tuesday of the month and that means that my friends and I at the Handcrafted Society get inspiration from one theme and see how different all of our…

Welcome to the Fabulous Friday Link Party The Fabulous Friday Link Party is the place where we celebrate everything about the home. Here you will find inspiration from dozens of bloggers including recipes, home DIY, gardening, decor, and so much more. As a courtesy to the hosts, we ask that you follow every host on…
---
Subscribe On YouTube