With Spring on the cusp and summer just a few months away I started dreaming about all the projects that I can do outside soon and so I have a list of ideas for the front porch and the front of the house in general and also the back yard and back porch as well!
I will break down the Front Porch Series in this post and hope that you will be inspired and check back often to see my progress!
You can get emails from me once or twice a week by putting in your email info here!
So here it is… let me know in the comments or by email if you see something that I am missing!
The Front Door
You can see the Front Door Makeover here!
The front door is in dire need of a makeover and I am excited to get it done.
I have chosen black. I am going to live with the black for about a week and then decide what color to do the shutters but I am leaning toward black or green.
I will replace the handle with a new keyless entry as well.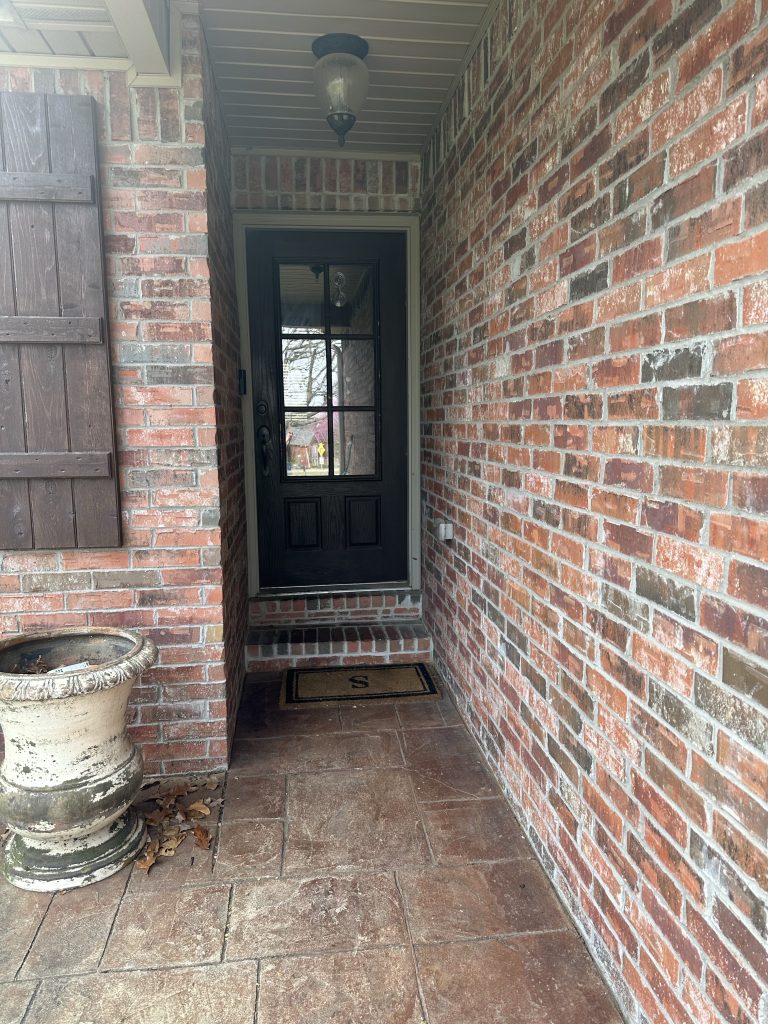 Yes, it needs a lot of attention. I hope by the end of summer the front of the house looks like a whole new place.
I hung a really cute framed wreath here years ago, and even though I had felt on the back it still scratched the door and this has bothered me for a while now. I am so glad to get this taken care of.
Guess who left me a present one day?
Staining the concrete
The concrete has taken a beating over the last 10 years and we are going to give it a good power wash and I am going to re-stain it with a warm brown stain.
Paint the Shutters
I am leaning toward black, but I want to live with the door for a week. My heart loves green and if I decide to paint the brick cream, I will want green shutters. So it's on the list but after the concrete.
Landscaping
I want to pull up these bushes and do some type of retaining wall flower bed here. I don't like the curve of the bushes but it's never been an option for me to remove them until now.
Aesthetics
Some things that will be added or updated…
Wreath
Rug
Fixing the broken urn that I love
Bench and Pillows
Power wash the driveway
New number sign
So that is the list for the Front Porch Series. Easy Peasy right?!?!? LOL