How to Make a Red White and Blue Patriotic Basket Vase
I love red, white and blue projects in the summer so when I found some clearance vinyl at Hobby Lobby in red, white and blue, I had to get it. All together it was around $10 and I will be able to make multiple projects with it. Today's project was just an idea I had in my head that I wanted to try out and I love how it turned out!
---
Today I am part of a really fun Patriotic Blog hop with some amazing bloggers.
All of the patriotic projects are listed at the bottom of this post and they are so good!
Thank you to Pasha from the Pasha is Home Blog for hosting this wonderful patriotic hop!
My friend Melanie at Southern Crush at Home has the prettiest red, white and blue table setting too! Be sure to check it out here!
Patriotic Vinyl Vase Supplies
Red, White and Blue Basket Weave Vase Tutorial
I love a good weaving project and this clearance vinyl was screaming to be a basket weave, don't you think?
To get started…
Measure and cut your vinyl into 2 inch strips leaving 2 inches at the top uncut as shown here.
Next, fold the vinyl in half to cut the colors into 2 inch strips.
This time you will cut all the way through so that each 2 inch strip is separated.
I used my rotary scissors and straight edge on my cutting mat to make sure my strips were even.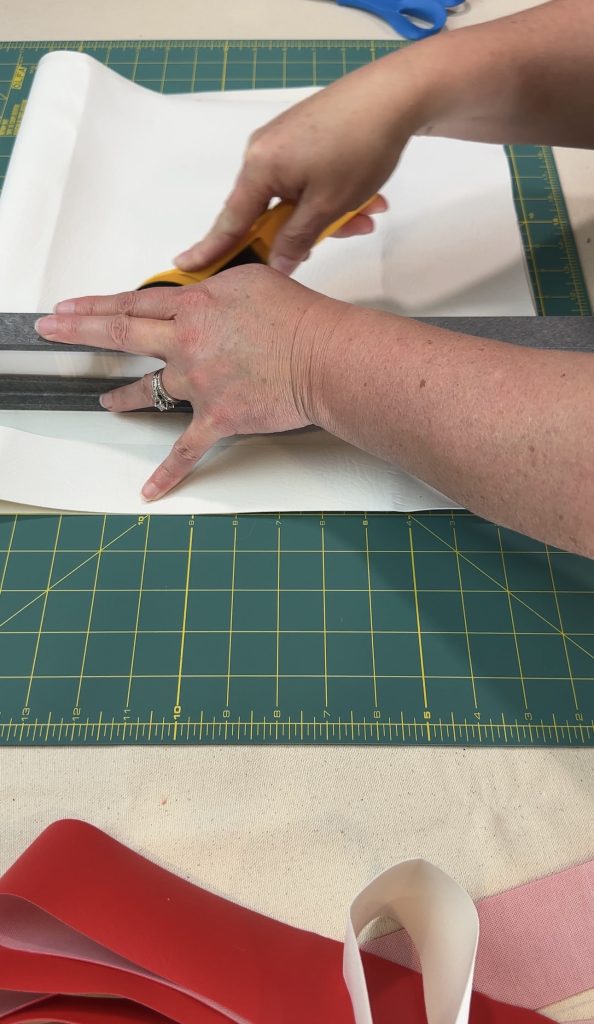 Fold every other strip up toward the top of the piece of vinyl where it is solid.
Lay down one strip of white vinyl making sure that it's pressed up to the top tightly.
Then lay down the blue strips.
Lift the opposite blue strips and lay down your red vinyl and repeat this until you have as much of the weave as you will need for your project.
Add a little dot of hot glue to the end pieces of the red and white strips so they don't move around, and then trim them to be even on the edge.
I used painters tape to hold my vinyl down on my glass vase until I was able to make sure that it lined up with the bottom of the vase and then I hot glued the vinyl in place.
Roll the vinyl weave all the way around and trim it to fit.
Hot glue the other end to the glass vase and to the other end of the vinyl as well to secure it.
Trim any excess from the top and bottom.
Fill with your favorite flowers and water and enjoy!
I hope you enjoy all of these wonderful patriotic inspirations like Marty from A Stroll Through Life's Patriotic Pool Party Ideas!
It's easy to save this post to your Pinterest board right here from the image below by either hovering over it on your computer or touch the red Pinterest Logo on the image with your phone and it will automatically open your Pinterest app to save! That way you'll have it when you are ready for it!
More Patriotic Inspiration from My Fellow Bloggers
DIY Patriotic Door Basket // The Tattered Pew
How to Set a Red, White, and Blue Table // Cottage in the Mitten
8 Easy Ways to Add Americana to Your Decor // White Arrows Home
4th of July Party Favors // Eleanor Rose Home
How To Decorate Your Coastal Cottage for the 4th of July // The Ponds Farmhouse
How To Make An American Flag Grapevine Wreath // White Lilac Farmhouse
7 FREE Dinner Party Printables – 4th of July Ideas // WM Design House
Easy and Effortless Americana Decor Ideas for the Entryway // Pasha is Home
Easy Red, White, and Blue Patriotic Table Setting for the Holidays // Southern Crush at Home
Red White and Blue Faux Leather Vase // Amy Sadler Designs
Patriotic Pool Party Ideas // A Stroll Through Life
Latest on the Blog
I love adding a touch of warmth and charm to my home during the holidays with rustic Christmas decor. Not only is it a relatively inexpensive style to achieve, but it also creates a cozy and inviting atmosphere. Some common elements of rustic Christmas decor include simple designs, warm colors, natural ornaments, wreaths and garlands…