How to Make a DIY Spring Birdhouse
I made this DIY Spring Birdhouse on Facebook Live not knowing how cute it was going to be in the end. I love it so much! It's very springy and fresh!
Do you know what color birdhouse attracts birds the most? It's the more natural colors like grey, earthy green, and brown! When I made this birdhouse I broke all of the outside birdhouse rules so I am going to keep this one inside!
Are you as ready as I am for some nice spring days and sunshine and painting outside? I got some raised bed planters for my summer garden and I can't wait to plant my tomatoes and cucumbers. I am going to plant some flowers too but gardening is all new to me so I will rely on my friend Jennifer at Cottage on Bunker Hill for her advice!
On to the Spring Birdhouse!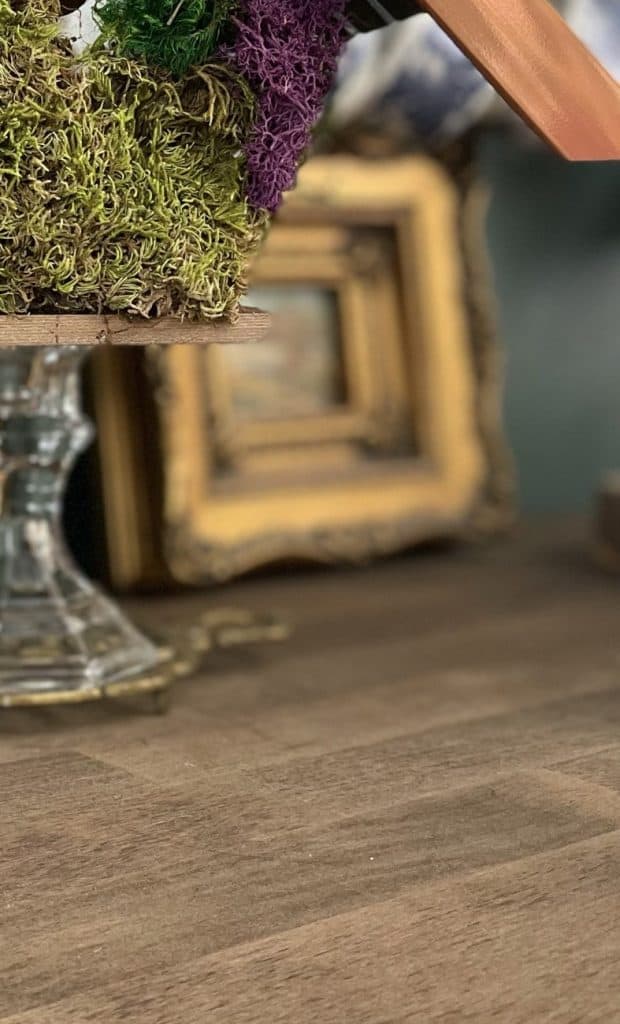 DIY Spring Birdhouse
Time needed: 1 hour
Spring Birdhouse DIY
Start with an unfinished birdhouse

Painting your unfinished birdhouse

I used the color blackboard to paint the roof and 2 Dollar Tree craft pallets


Paint the body of your birdhouse

This white is called Italian Silver from Amy Howard at Home
The "Porch" is painted in bronze

Roof embellishment

I had a broken copper picture frame from the Dollar Tree that I glued to the front of the birdhouse to add a fun embellishment

Add assorted moss

I hot-glued multiple types and varied colors of moss in random placements around the birdhouse

Add Height

Add a glass candlestick from the Dollar Tree to the bottom of your birdhouse with hot glue to add height

Voila
I had no idea how precious this little DIY birdhouse decor was going to be when I started it but I think I will leave it up all year long! It looks amazing on my kitchen counter! Check it out!
If you love this project, you should look at my Easy DIY French Country Table Runner that I made for under $3, or this unique leather napkin ring idea!
Next up on my list is bird seed sachets!
You Might Also Like
Spring Color Palettes For Your Home Decor
How to Make Homemade Cleaning Solution Recipes (with Printable Labels)