Easy DIY French Country Table Runner
Have you ever seen a beautiful table runner and thought to yourself, I wonder if I can make that? What fabric should I use for a table runner? How much fabric do I need for a table runner? Let me help you! This easy DIY French Country table runner is so fun and inexpensive to make!
Welcome to the March edition of the Thrify Style Team Blog Collaboration! This month our theme is Thrifty Spring Decorating Ideas for Your Home.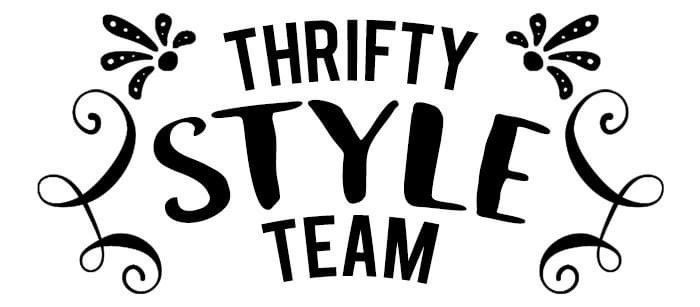 I think you will love all of the wonderful and thrifty home ideas from the Thrifty Style Team like this one. I'm loving the way it turned out. It's hard to beat a thrifty high-end look! Check out the other Thrifty Sweet Decorating Ideas for Your Home at the bottom of this post.
Okay, first.
What fabric should I use for a table runner?
I am using some super thrifty finds for my French Country Farmhouse table runner in this post, but you can use so many options. Think outside the box and don't fall into the trap of thinking it must be washable and live through a tornado. I am giving you permission to make a simple table runner that is pretty and is there for looks.
My favorite fabric to use on the fly is torn drop cloth. Also, I like using curtains. I find very high-end satin and all sorts of luxurious fabric curtains on clearance and closeout ALL THE TIME. I have a stockpile of high-end curtains that I haven't paid more than $10 for yards and yards of expensive fabric. I never turn down a $10 luxury curtain in a beautiful color!
Where I am from we have a store that has an entire room of overstock curtains from very high-end stores so I would bet you have an overstock store around somewhere too!
Today's French Country table runner is a mix of drop cloth and a valance I got for $2 on clearance.
To make this simple, no-sew table runner look elegant and high end I chose drop cloth and a Waverly Spring Bling Valance. I love this Waverly pattern and when I saw it at the overstock store for $2 I snapped it up.
Easy diy french country table runner
Choose your fabric
Cut or tear your table runner to 15 to 18 inches wide

To make it simple and no sew I tore my edge and left it without a hem

Measure your table
Cut or tear fabric at 12 inches longer than your table

This will be hidden so it doesn't have to look perfect

Add a pinch pleat about 4 or 5 inches from the side edge of your valance before cutting it

Allow a few inches for the pleat. I didn't cut until my first two pleats were in place.
After your pleats are secured with hot glue (you can tack them with a stitch as well) cut to the same size as the width of your table runner fabric. Mine was 18 inches.
Next I folded the fabric over to the other edge and used the finished edge to line up and measure the second side of the valance..
Line up and secure your pleats on the valance with hot glue
Cut the valance to the correct size by using the first
Turn over your valance pieces and cut the excess (where the pocket rod opening is) off.

On this Waverly Valance it was about 6 inches off the top.
Using hot glue, "hem" the unfinished edge.
Turn over and hot glue the valance on to your drop cloth
I love how this turned out! It is a simple and quick solution for giving your table a different look when you're ready for a change. The best part is it's budget-friendly and completely customizable to your style. Top off your new table runner with this beautiful DIY Cake Riser Centerpiece. If you are like me and love thrifty elegance, then I think you will also like my Easy DIY Throw Pillow Covers too!
You will enjoy the other Thrifty Style Team posts today too! Check them out below!
Find them all here!
Redhead Can Decorate – 3 Simple No-Sew Home Decorating Ideas Using Fabric
Our Crafty Mom – Bumble Bee Craft Mason Jar
DIY Beautify – Salt Dough Rabbit Ornaments
2 Bees In A Pod – Stamped Eggs for Spring
The How To Home – Hand Stamped Napkins
Postcards From The Ridge – Paper Egg Ornaments
Vinyet Etc. – Thrifty Vintage Planters – Spring
Lora B. Create & Ponder – 7 Ideas for Decorating the Tops of Armoires, Bookcases (and any tall furniture)
The Tattered Pew – 5 Thrifty, Chic and Simple Spring DIY Projects
Cottage On Bunker Hill –Inspired Antique Brass Planter
Amy Sadler Designs –Easy DIY French Country Table Runner
Songbird – Easy Fresh Flower Spring Wreath
My Family Thyme – Easy Side Table Makeover with Fusion Mineral Paint