How to Make Homemade Cleaning Solution Recipes (with Printable Labels)
In today's post, I will give you some simple homemade cleaning solution recipes that are easy and really work! I have also included a link for printable labels for your bottles with the recipe included so you won't have to search!
Are you someone who is obsessed with cleaning, I am not, but I do love a good spring cleaning? When the weather turns and the sun starts shining in on my winter mess especially!
I like to say my house is clean but cluttered! There is always a project on my kitchen table and a painting project smack dab in the middle of my living room, but I clean and tidy daily.
Spring cleaning is different though. It's like washing away the ugly winter drudge and letting the sunshine in through the clean windows!
Welcome to the Fabulous Friday Link Party Spring Blog Hop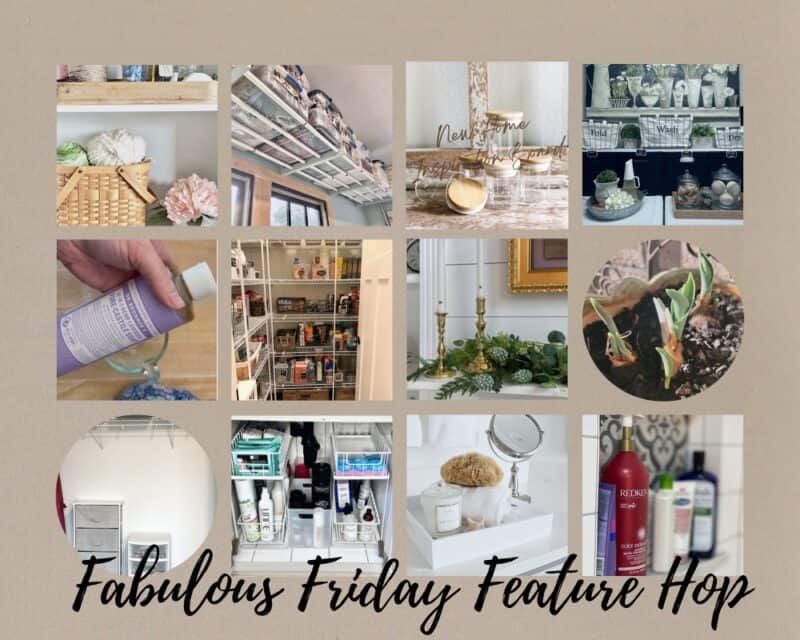 Welcome to the 2nd Fabulous Friday Link Party Blog Hop. The Fabulous Friday Link Party is where you can find the best posts from dozens of home bloggers every Friday.
Four times a year, the six hosts pick a regularly participating blogger to join in the blog hop.
February is a month for cleaning and organization and this blog hop is dedicated to inspiring and helping you unleash your own cleaning and organizing brilliance.
Be sure to visit all twelve posts. — so many unique ideas, tricks, and hints.
They are all listed at the bottom of the post.
Homemade Cleaning Solution Recipes
---
Some of the reasons I love making my own homemade cleaning solution recipes are because I can control the strength and because I can save so much money over buying premade solutions.
All-Purpose Cleaner Recipe

1 Part Water
1 Part Vinegar
10-15 Drops of your favorite essential oil
Mix in a spray bottle and label (Printable labels download available in this post)

Glass Cleaner Recipe

1/2 Cup of Distilled Vinegar
1/2 Cup of rubbing alcohol
1/4 Cup of water
Mix in a spray bottle and label

Tile Floor Cleaner

1 Gallon of very hot water
1 -2 Tblsp of Tide original powder
Mix in your Ocedar spin mop tub
I also use this same mixture to clean my baseboards and window sills

Cleaning Wipes Recipe

2 Cups Water
1/2 Cup Distilled Vinegar
1 tsp Castile Soap ( I like the lavender scent)
Mix this solution in a sealable container and submerge paperless towels inside. Pull one out and ring the solution into the container and use.
Wash the paperless towel and replace it.
This solution lasts a long time.

Homemade Shower Cleaner

1-2 Tblsp Dawn dish soap
1/2 Cup Distilled vinegar
1/4 Cup Water
Use a scotch pad-handled cleaning wand for this and keep it in your shower. You can clean while you shower and keep your shower sparkling.

DIY Toilet Cleaner

1/2 tsp Castile Soap
3/4 Cup Baking soda
1/2 Cup Warm Water (warm to dissolve the baking soda)
10 Drops of tea tree essential oil
Mix this in a container that you can squeeze out of onto the toilet.
I repurpose my dawn dish soap bottles for this.

Carpet Spot Cleaner DIY

1 Part Dawn original dish soap
2 parts hydrogen peroxide
ALWAYS spot-test this on your rug or carpet before cleaning a large spill.

Homemade Poo Spray

Last, but certainly not least. LOL
I couldn't write all of these homemade cleaning solution recipes without including Homemade Poo Spray now could I?
I never thought I would be putting the word poo on my blog, but I think this is for a good cause!

In a 3 oz bottle,
1 Tblsp Rubbing alcohol
25-40 drops of essential oil ( You can order oils in some of your favorite candle scents and add those)
Fill the rest of the bottle with water and shake well before each use.
Spring Cleaning Tools you need
It's about that time again, and I am ready for it!
Spring cleaning time that is! My windows are open today, but there is a muddy mess outside so I am not going to start in today on my spring cleaning routine but I love getting my recipes ready!
I use these cleaning recipes all year long because they are inexpensive, smell great, and work!
Here are a few of my absolute spring cleaning MUST HAVES!
Tools You'll Need – LInks

---
Frequently Asked Questions about Homemade Cleaning Solution Recipes
How Do you clean a Granite Composite Sink?
I found the answer to this by accident because I always keep my Sugar Cookie Scrub next to my sink to use on my hands after I do the dishes.
Lately, I had noticed some white spots on my brown granite composite sink for a few weeks, and wiping it with soap and scrubbing it with brushes wasn't working so I got my Sugar Cookie Scrub out and scrubbed the sink with it and it came sparkling clean and looks brand new.
It hasn't looked this good since I moved in, and I couldn't be happier about it!
I will make a sugar scrub without the cookie nip for future cleaning use!
Do Homemade cleaning solutions work?
Absolutely! I have been using my homemade solutions exclusively, and have for years with no issues and they work great.
It's easy to save this post to your Pinterest board right here from the image below by either hovering over it on your computer or touch the red Pinterest Logo on the image with your phone and it will automatically open your Pinterest app to save! That way you'll have it when you are ready for it!
---
More Organization and Spring Cleaning Posts From Our Fabulous Friday Feature Hop
What's In My Cart

You Might Also Like
5 Easy Laundry Hacks to Make Your Clothes Last Longer and Smell Great
Everything You Need To Know About Paint Sheen
How to Clean an Electric Kettle
---
Subscribe On YouTube