How to Make Felt Christmas Coasters with Felt Balls
Do you know how to make felt Christmas coasters with felt balls like this? I had no idea these would be so adorable when I started this project!
I have had this felt garland from Michael's for a couple of seasons and I knew I could do something cool with it other than string it up on my mantel.
Now that I have made these Christmas Felt Coasters with them I want to make some trivets too and I am already planning my spring tulip coasters and summer flag coasters!
Are you team coasters or no?
Handmade Gift Series
This is week three of our handmade gift series and my friends are killin it with their handmade gifts!
I have linked their amazing posts for you at the bottom of this page!
I prefer coasters because I drink a lot of iced tea and my glasses sweat so felt coasters are perfect to actually catch the moisture and keep me from having to clean up water rings everywhere all day long.
So I am not only team coaster but team felt coaster. My mom had the coolest cork coasters too that worked and saved my life many times growing up!
---
Supplies For Felt Ball Coasters
Felt ball garland
Close matching felt sheet
Hot Glue
Have you guessed at how easy this project is yet?
---
How To Make Felt Coasters
Choose a Shape

Choose a fun shape to create with your felt coasters.
I chose a round coaster that resembles berries and of course a Christmas tree!

Measure appropriate size

I used some regular coasters I had to make sure my felt coasters would be big enough to hold a cup. You don't want them to be too small, or great big unless it's going to be a trivet.

Cut the shape

Trace your shape or use a ruler to make the triangle for your Christmas Tree coaster out of the felt sheet that closely matches your felt balls or is a nice contrast if that works.

Test layout

Lay out your felt balls on the felt cut out to get your ideas laid out. Make sure you have enough of one color to cover the cut-out felt.

Glue felt balls down

Start gluing your felt balls onto the felt cutout the way you laid them out.
I glued directly to the felt cutout first and then on the edges, ensuring some glue touched the sides of the other balls on the cutout for stability.

Leave a space

I left a space in between the red felt balls so that I could glue them securely to each other and the base cutout

Enjoy Iced drinks

I enjoy my iced tea all winter long! I am so glad to have these adorable felt coasters to rest them on!
I love the idea of giving these as a hostess gift or a favorite things gift!
---
You Have To See These Handmade Gifts
My friend Wendy with WM Design House is showing you how to make lavender sea salt soap! Yes Please!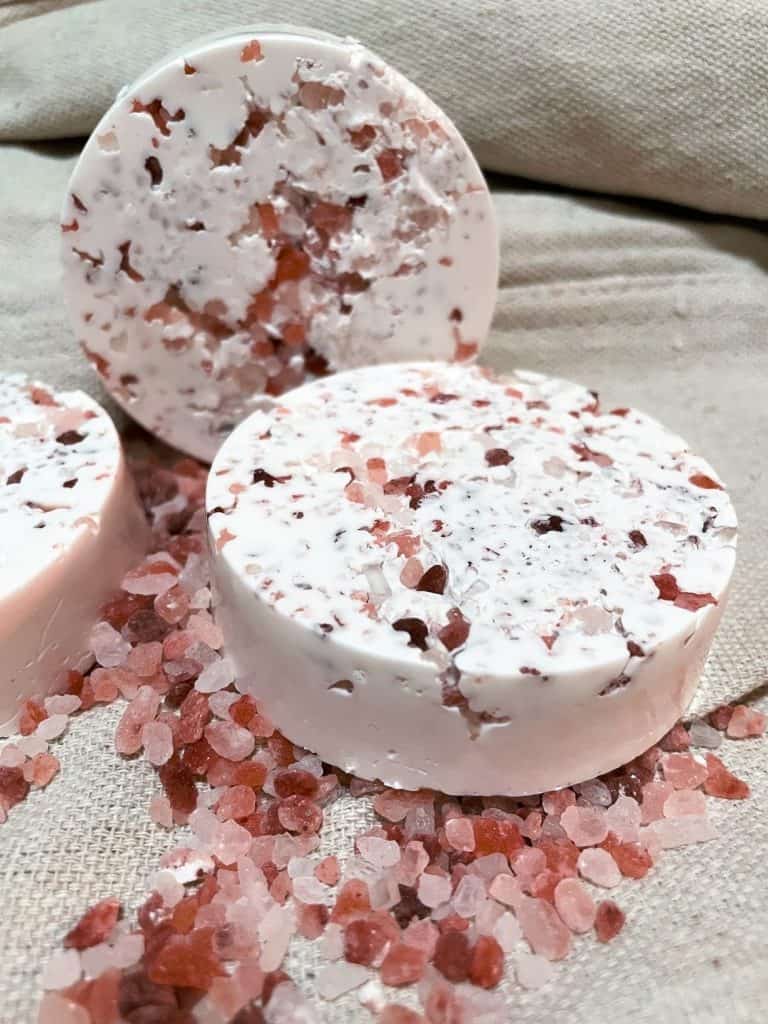 Jeniffer with Cottage on Bunker Hill made the most adorable gingerbread rug and it's genius how she did it!
Regina at Saved from Salvage has made the sweetest keepsake ornaments!