Easy Wheat and Floral Decor For Fall Decorating
Fall is my favorite season for decorating. the leaves are changing color, the cool crisp air, and pumpkins are everywhere! This year, I wanted to try something a little different with my wheat and floral decor. instead of making it all matchy-matchy, I used different colors and textures to create a more organic look. see how easy it is to achieve this look in your home! Then I added some amber glass bottles to make it even better!
---
Using Amber Glass Bottles For Fall Decor
Who would've thought these little amber glass bottles could be recycled to such adorable fall home decor?
This post may include affiliate links; you can read my disclosure policy here.
I am using my handy dandy Starbucks Cold Brew Amber Glass Bottles that I have been hoarding for fall decor! I have so many fun ideas to try with them starting with these wheat and floral arrangements for fall!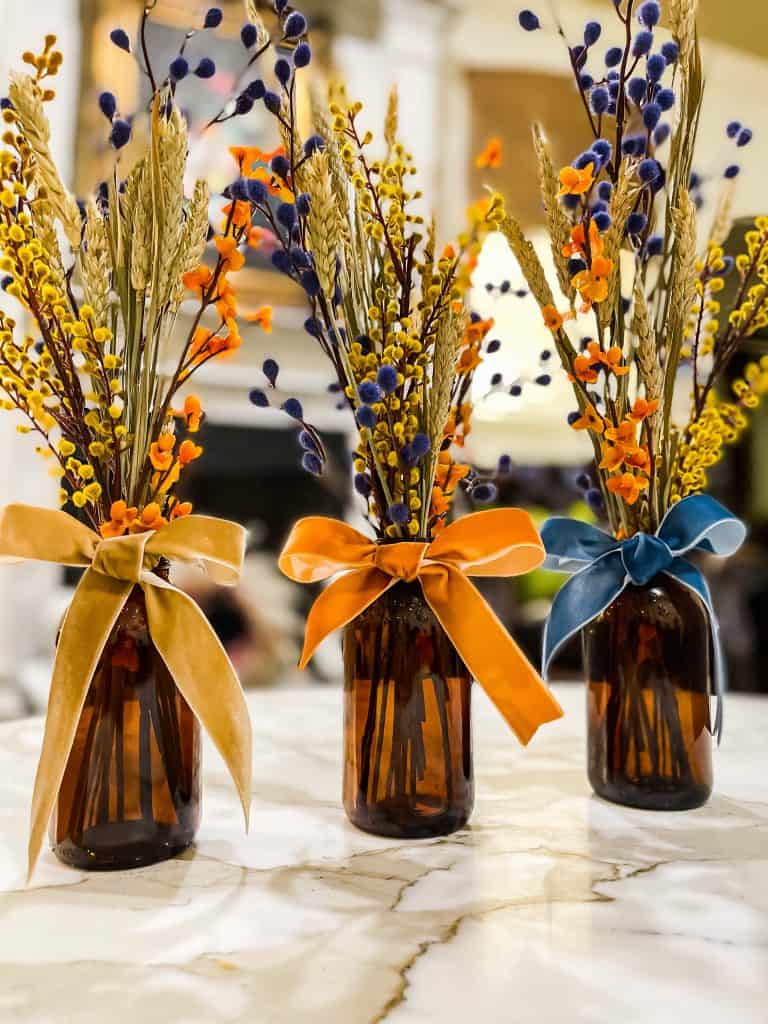 ---
Supplies For Wheat and Amber Glass bottle DIY
Starbucks Cold Brew Amber Glass Bottles I order online because my store is always out of them!
Dried Wheat Bundle (I got mine at Hobby Lobby half off sale)
Faux Flowers in fall colors

I added this beautiful blue berry, orange and yellow flowers (all from Hobby Lobby half off sale)

Velvet Ribbon (Hobby Lobby, on sale) LOL
Cordless Hot Glue Gun
The moral of the supply story is get your Hobby Lobby stuff when they are on sale!
---
---
How to put together a fall floral arrangement in a Starbucks's amber glass bottle
Clean and Remove the label

To remove the label from your amber glass bottle just peel it away and then use goo gone to remove any residue and the white stamped lettering on the base of the bottle. Allow to dry.

Cut the stems

Cut the branches of your faux flowers. I cut mine where they met the stem.

Cut Wheat Stems to size

I have a hack for cutting the wheat without making a huge mess everywhere on your table!
It comes packaged in cellophane so I cut open one side of the cellophane and leave the wheat inside the packaging as I cut it. It will get everywhere if you lay it out.
i cut the stems individually as I need them in various sizes.

Add Faux Flowers first
I add in the faux flowers first and sometimes I find it helps to crisscross the stems to help them stay put.
I added the tallest first

Add Wheat
I add the wheat in various lengths and bundle pieces together.

Add a bow
I made these bows the bunny ear way. I used hot glue to adhere them to the top of my Starbuck's Cold Brew amber glass bottle.

Mix it up with colorful bows

I used the same flowers in each vase but I used three colors of velvet ribbon to add some more interest and color to the trio. I love how they came together!
---
I hope you'll try to make these this fall when you need a quick and easy (and cheap) fall floral arrangement! Though they aren't huge or expensive they make a huge impact!
My friends and I are sharing some beautiful (and thrifty) home decor ideas for you this week and if you came over from Songbird, Welcome! I hope you are loving all the glass bottle idea's. We didn't plan that either! LOL I will link all of our friends fun thrifty ideas at the bottom of this post as well!
Head over to see what my friend Lynne is up to with her easy and inexpensive DIY fall wreath.
Here are my other Thrifty Style Team friends and their fun projects! Go check them out!
Fall is my favorite season and I love decorating my home for it. This year, I'm excited to try some new ideas that I've seen, and I can't wait to get started! Have you made any fall decor yet? If so, please share a picture or two in the comments below – I would love to see them.
You Might Also Like…
Welcome Home Saturday: Cozy Fall Finds For Home and Kitchen
Leather and Wood Pumpkins DIY for Fall