How to Make Ghirardelli Chocolate Truffles
I love an easy recipe, and my friend, I have an easy recipe for you! I never knew how to make truffles but now that I know, everyone is getting these Ghirardelli chocolate truffles this year for Christmas!

We have this tradition where my sisters and I get together every year to make fun treats for Christmas. This year in addition to my sugar cookie scrub, I am bringing this Ghirardelli chocolate truffle recipe! My sisters and I love it! So, it will be my sisters, Nancy and Holly, my niece, Macy, and my baby girl, Gigi! I am particularly excited this year because Gigi is getting older and is a lot more fun to bake and make with! In other words, you'll notice her little hands in every food blog pic that I have because she always had to "twy it"!
This sweet tradition gets better and better every year. I'm so excited to be bringing this super easy and delicious truffle recipe to the table this year. Do you have family traditions that gets better every year?
Ghirardelli Chocolate Truffles
ingredients
24 ounces of Good quality semi-sweet chocolate chips ( I used Ghirardelli)
2 Cups Heavy whipping cream
Dutch Process Cocoa Powder to roll the truffles in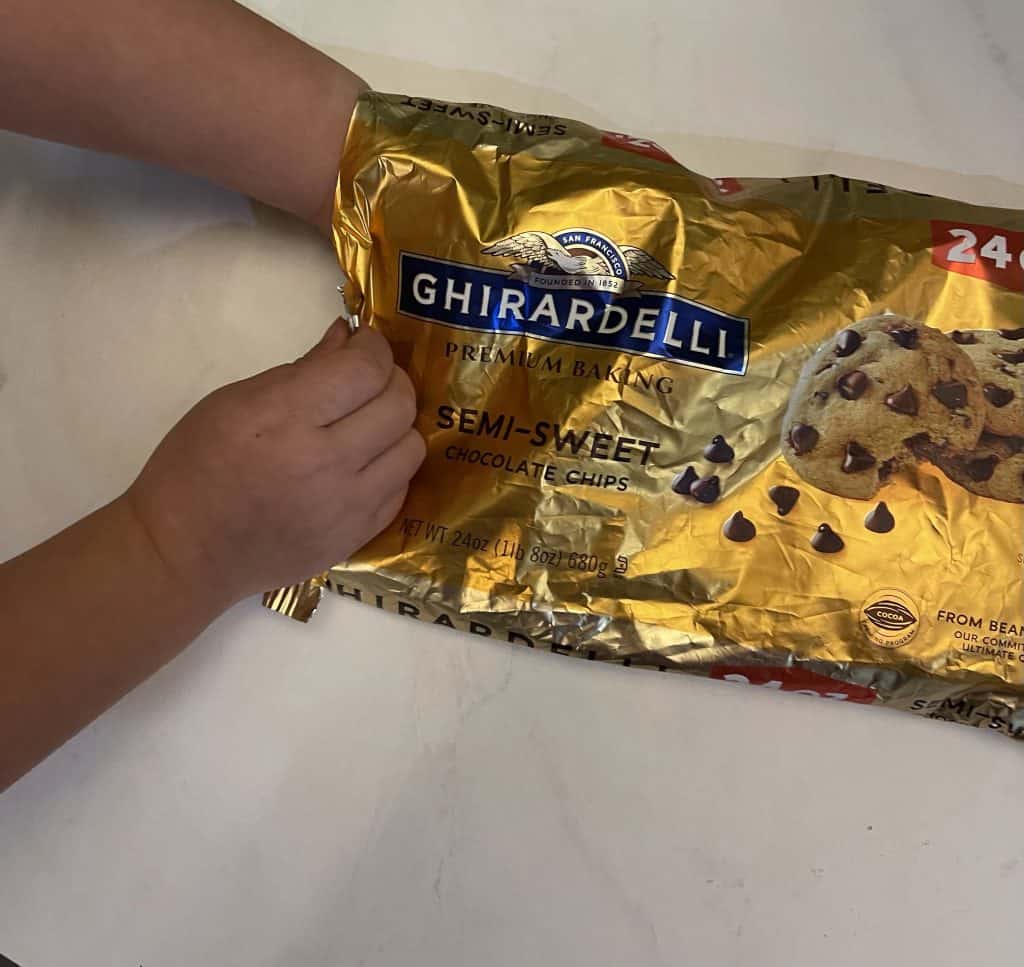 How to make Ghirardelli Chocolate Truffles
Heat Heavy Whipping Cream

I used my copper pot to heat the heavy whipping cream to bubbling.

Pour Hot Heavy Cream Over Chocolate Chips

Pour the 2 cups hot heavy cream over 24oz of Semi-sweet chocolate chips in a mixing bowl.

Let Chocolate Chips Rest

Let the chocolate chips rest in the hot cream for 5 minutes.

Mix Melted Chips and Heavy Cream

Mix to a smooth consistency.

Chill Chocolate Mixture

Chill in the fridge for about an hour.

Roll into Bite Size

Roll into bite size balls or press into silicone molds to make fun shapes.

Roll Bites in Cocoa Powder

Roll in cocoa powder. I prefer Ghirardelli brand of chocolate!

Enjoy!

Bring to Christmas parties, Christmas dinners, or have yourself a treat! Best served with ice cold milk!
If you enjoy making things for Christmas, then you have to give this Ghirardelli chocolate truffle a try! Also, don't forget to try my sugar scrub recipe! Your friends and family will love you for it.
So, what's some of your favorite things to make at Christmas time?