How To Make DIY Coastal Decor with Dollar Tree Seashells
Transforming ordinary Dollar Tree seashells into stunning coastal decor has never been easier!
In this post, we'll show you step-by-step how to make DIY coastal decor with Dollar Tree seashells, so you can create your own unique and personalized pieces that will have everyone asking where you got them from. So, let's get started!
If you're looking to add a little bit of coastal charm to your home, then you'll love this DIY project using Dollar Tree seashells. With just a few simple materials and some creativity, you can transform plain seashells into beautiful coastal decor pieces that will bring a touch of the beach to any room.
Living in landlocked Missouri doesn't give me much opportunity to decorate with coastal home decor very often, but when my friend Regina challenged our Handcrafted Society to a seashell challenge I had to stretch my DIY skills!
I love how it turned out and now I want to celebrate at the beach!
Coastal Home Decor With Dollar Tree Sea Shells
Welcome to Our Monthly Handcrafted Society DIY Projects
My friend Jennifer at Tatertots and Jello made this DIY Tassel and Bead Starfish Garland and the rest of the projects are just as elegant and coastal chic. I have linked them all at the bottom of this post.
It's easy to save this post to your Pinterest board right here from the image below by either hovering over it on your computer or touch the red Pinterest Logo on the image with your phone and it will automatically open your Pinterest app to save! That way you'll have it when you are ready for it!
Supplies Needed
Styrofoam Balls
Dollar Tree Sea Shells
Hot Glue
Silicone Finger Thimbles
Optional Enhancements
Collected Sea Shells
Coastal Driftwood
Beautiful glass or decorative bowl (preferably large)
Step by Step Instructions
Start by separating your shells into similar sizes so you can see the sizes and shapes you have to work with as you start to glue them on.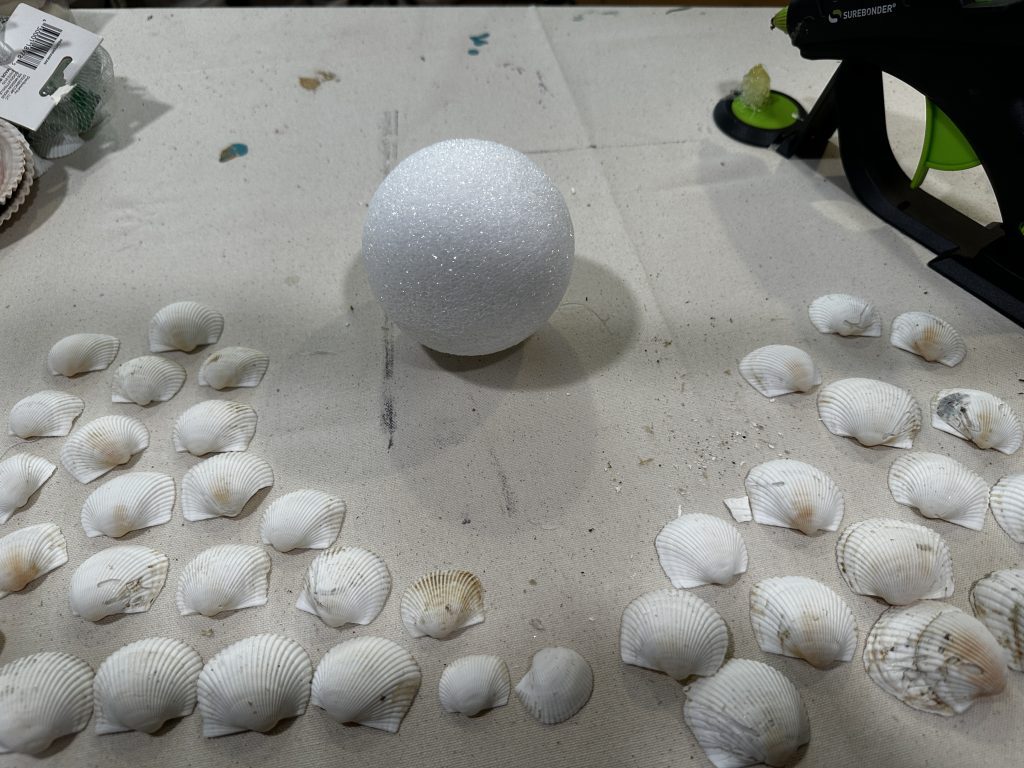 Use hot glue around the outer shell. If your glue gun is very hot, wait a few seconds and let the glue cool slightly as it will disintegrate your styrofoam if it is too hot.
This is a picture of what NOT to do. I admit, I've had my fair share of finger burns in the past and I finally picked up some silicone thimbles at the Dollar Tree to use when I am holding things that I am gluing. They are a finger saver for sure.
Randomly place your shells on the styrofoam ball and go around filling in as needed.
This is where having the sea shells separated into size and shape is very helpful.
You will be able to see where you need large, medium, or small sea shells to fill in the gaps.
It felt a lot like sea shell Tetris and I found it very satisfying!
As always, after the fact, I notice things I could have done better and I wish that I had purchased some white sand to glue on my styrofoam ball in the places in between.
White sand would have taken these sea shell orbs to the next level, so I will be picking some up and updating this post as soon as that's done. I will email you to let you know!
They are still so pretty though and they look so elegant mixed with the other shells and driftwood. I am pleased and I do think we need a trip to the beach to celebrate! Don't you?
If you make this adorable coastal bowl filler would you send me pictures so I can be even more inspired?
Feel free to leave any suggestions in the comment section below and get on my email list so we can stay in touch!
---
See These Beautiful Coastal Ideas by Clicking on the Image
Subscribe to my YouTube channel