Fourth of July Home Decor Ideas Using Fabric Scraps
This simple fourth of July pillow made with fabric scraps is my all-time favorite! I love how it turned out and how inexpensive and easy it was to make!
---
My Thrifty Style Team friends and I are at it again! There are some really simple and very thrifty ideas for summer home decor and recipes! I can't wait to try some of them! Like How to make everyday items look patriotic! Also, How to stencil an outdoor rug! I link to all of these fun posts at the bottom of this page!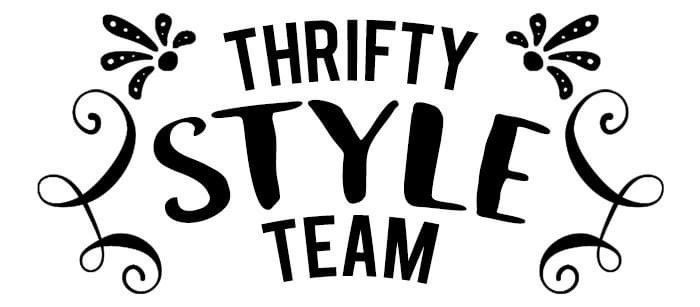 ---
Fourth of July Pillow with fabric scraps
Fourth of July Home Decor
Choose Fabric in patriotic colors

I looked for red, white, and blue fabric but not fabric that was necessarily stars and stripes. I wanted to make my pillow unique and in my style. So I looked for vintage-looking small floral patterns and similar in style but not matching.

Canvas/ Linen Pillow Cover

I used this Canvas pillow cover from Hobby Lobby and I got it half off of $9.99.


Trace a star shape

I traced a star shape onto paper first and then pinned it to my blue fabric to cut out my star shape. I didn't want to trace it onto my fabric directly.

Measure and snip

I had 1/4 of a yard of both my red and white floral fabric left over so I measured and snipped them at 3-inches apart.

Tear Fabric Strips

If you haven't torn fabric before you are in for a treat. It is probably one of the most satisfying things ever of all time. You just start tearing and it makes a glorious sound and it tears in a perfectly straight but torn line. It is amazing! If you have done this before you know exactly what I am talking about.

Glue fabric to pillow cover

I used Surebonder fabric hot glue sticks and started at the bottom of the pillow cover. I did a small section at a time so that my hot glue didn't cool before I laid my fabric down.

Give it dimension

I pressed and moved my hand over the fabric to the right so that it wouldn't lay perfectly flat but have some movement. Wearing my finger guard to not burn my fingers.

Add the Star

Adding the blue floral fabric star makes this project so good! Again I did a small section at a time.

Add Pillow

Add a 20×20 pillow from your collection!
I hope you will try this project. It really is so sweet and it was less than $10 to make! Don't forget to make it your own too!
Here is another fun way to use fabric! As napkins on your tablescape!
---