Easy Hard Boiled Egg Recipes to Make for Lunch Today
There are times when I make easy hard boiled egg to make for lunch. Hard boiled egg recipes are usually simple and inexpensive, especially if you use farm fresh eggs from a local chicken keeper (or your brother-in-law).
I have rounded up some delicious recipes that include hard boiled eggs, and I am planning on making a few of them this week for lunch and snacks!
You can read over my How To Make Hard-Boiled Eggs Perfectly Every Time post for some great tips on the perfect hard boil, and another recipe!
Another great thing about these recipes is that you can have your eggs hard boiled ahead of time and ready to go! Easy Peasy!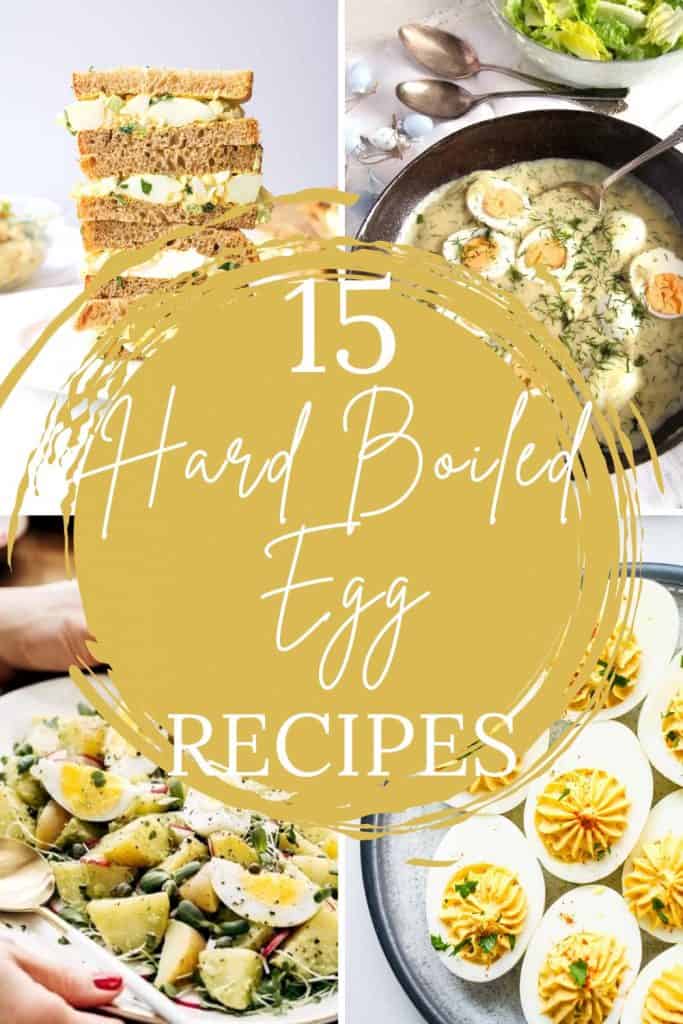 Easy hard Boiled Egg Recipes
Easy Peel Air Fryer Hard Boiled Eggs
Learn to make the best Air Fryer Hard Boiled Eggs without any boiling water. This hands-free method delivers perfectly cooked and easy to peel eggs every time!
https://ifoodreal.com/air-fryer-hard-boiled-eggs/

Easy Egg Salad Sandwich
If you are wondering what to do with all of those leftover Easter eggs, this Mexican Egg Salad Sandwich recipe is for you! This twist on the classic egg salad sandwich is so flavorful, and it's so easy to make. This is going to be your new favorite lunch.
https://budgetdelicious.com/egg-salad-sandwich-recipe/

Greek Yogurt Healthy Deviled Eggs
These Healthy Deviled Eggs are made with Greek yogurt instead of mayo. They are well-seasoned, creamy and deliciously tangy. Perfect for parties or snacking!
https://ifoodreal.com/greek-yogurt-healthy-deviled-eggs-no-mayo/

Ham and Egg Salad with Avocado
Try this awesome twist on the classic egg salad: Avocado Egg Salad with Ham. The avocado adds a wonderful flavor to this salad, and the ham adds a nice texture. This will be the best egg salad you ever make!
https://www.babaganosh.org/green-eggs-and-ham-sandwich/

German Eggs in Mustard Sauce
A quick recipe for traditional German Eggs in Mustard sauce – leftover hard-boiled eggs in a creamy mustard sauce with dill.
https://whereismyspoon.co/eggs-in-mustard-sauce/

Deviled Egg Pasta Salad
Simple and creamy deviled egg pasta salad with macaroni, bacon, and mayo. A delicious way of using some of those leftover hard-boiled eggs from Easter.
https://whereismyspoon.co/creamy-deviled-egg-pasta-salad-with-bacon-eggs-recipes/

Sriracha Deviled Eggs
With the distinct heat of Sriracha, plus Genoa salami, and sun-dried tomatoes, Sriracha deviled eggs are a modern refresh of a classic!
https://kellyneil.com/sriracha-deviled-eggs/

Breakfast Quesadilla with Eggs and Ham
A breakfast quesadilla is a simple, quick and easy breakfast idea! This recipe is easy to mostly make ahead of time, which makes mornings so much more fun!
https://pitchforkfoodie.com/ham-and-cheese-breakfast-quesadillas/

Deviled Egg Potato Salad
A healthier take on the classic Deviled Egg Potato Salad made with homemade avocado salad dressing instead of mayonnaise. It is flavored with dill pickles, red onion, radishes, and fresh sprouts.
https://foolproofliving.com/deviled-egg-potato-salad/

Gluten-Free Savory Muffins with Cheddar & Eggs
These savory cheddar muffins have a hard-boiled egg hidden in the center! They're protein-packed and gluten-free, with tons of flavor from the cheddar and herbs.
https://www.fannetasticfood.com/hard-boiled-egg-and-cheddar-muffins-gluten-free/

Easy Classic Pickled Eggs
Popular bar styled food made at home with this easy no canning method. All you need is a nice big jar, hard-boiled eggs, and a brine to make the best-pickled eggs ever.
https://homemadeandyummy.com/easy-classic-pickled-eggs-recipe/

BLT Egg Salad
All the crowd-pleasing flavors of a BLT sandwich, in a healthy egg salad recipe! Super versatile, too – it's delicious as a sandwich or as a salad, nestled into leafy greens … even as a dip with whole grain crackers!
https://twohealthykitchens.com/blt-egg-salad/

Easy Mexican Deviled Eggs
These Mexican Deviled Eggs are a tasty take on a classic. They are easy to whip up and ideal as party appetizers, protein-packed snacks, Game Day, or holiday side dish
https://budgetdelicious.com/mexican-spicy-deviled-eggs/

Ginger Egg Salad
Creamy Ginger Egg Salad popping with spicy fresh ginger flavor. This salad is loaded with healthy stuff – heart healthy fats and proteins, extremely light and very nutritious. It's perfect in a sandwich or as party food served with veggies or chips.
https://www.natalieshealth.com/ginger-egg-salad/

Creamed Eggs
Creamed Eggs are a simple dish of eggs served in bechamel- or eggs in gravy. Serve on toast or biscuits for a comforting & filling breakfast!
https://cincyshopper.com/creamed-eggs/
---
Each one of these delicious and healthy hard-boiled egg recipes make for the perfect snack, side dish, or meal! With recipes like ham and egg salad with avocado, German eggs in mustard sauce, sriracha deviled eggs and so many more, there is something here that the whole family will love! Whether you need to use up some already boiled eggs in the fridge or you are making them fresh, these recipes are just what you need!
You can also get my Salad Dressing Cheat Sheet Printable! It's almost time for Salad season!