This Copper leaf bowl diy turned out perfect! These Hobby Lobby leaves were the perfect choice for this project!
Leaves were our challenge this month for the Handcrafted Society and this project did not disappoint! I had no idea what to make and then I saw some copper bowls and had an idea! It couldn't be cuter!
Susan at Hen and Horse Design also has a super cute Easy to Make Fall Mantel Banner Using Leaves and there are 9 more fall DIYs that are so adorable to kick start your fall crafting!
It's easy to save this post to your Pinterest board right here from the image below by either hovering over it on your computer or touch the red Pinterest Logo on the image with your phone and it will automatically open your Pinterest app to save! That way you'll have it when you are ready for it!
Let's get started!
Supplies for Copper Leaf Bowl
Copper Leaves (Hobby Lobby)
Dollar Tree Glass Bowl
Surebonder Hot Glue Gun
That's it. Three ingredients for this adorable copper leaf bowl! A whopping total of less than $6, because I got the leaves for 40% off.
How to Make a Copper Leaf Bowl
Start by removing the sticker from your bowl. It will show from the inside.
Clip all of the stems from the copper leaves with scissors. They will be in the way. I left on the first one and then decided to clip them all off.
Place hot glue on the veins and on the ends of each point of the copper leaf.
Start by placing the first layer of copper leaves down in a T shape where they all meet and slightly cover each other at the base. Make sure to cover the entire bottom of the glass bowl.
Continue hot gluing the leaves upward until the entire bowl is covered. This is 2 layers and I could have stopped here, but I added a third layer of leaves to extend beyond the top of the glass bowl and I love how it turned out!
This is with the 3 rows of copper leaves.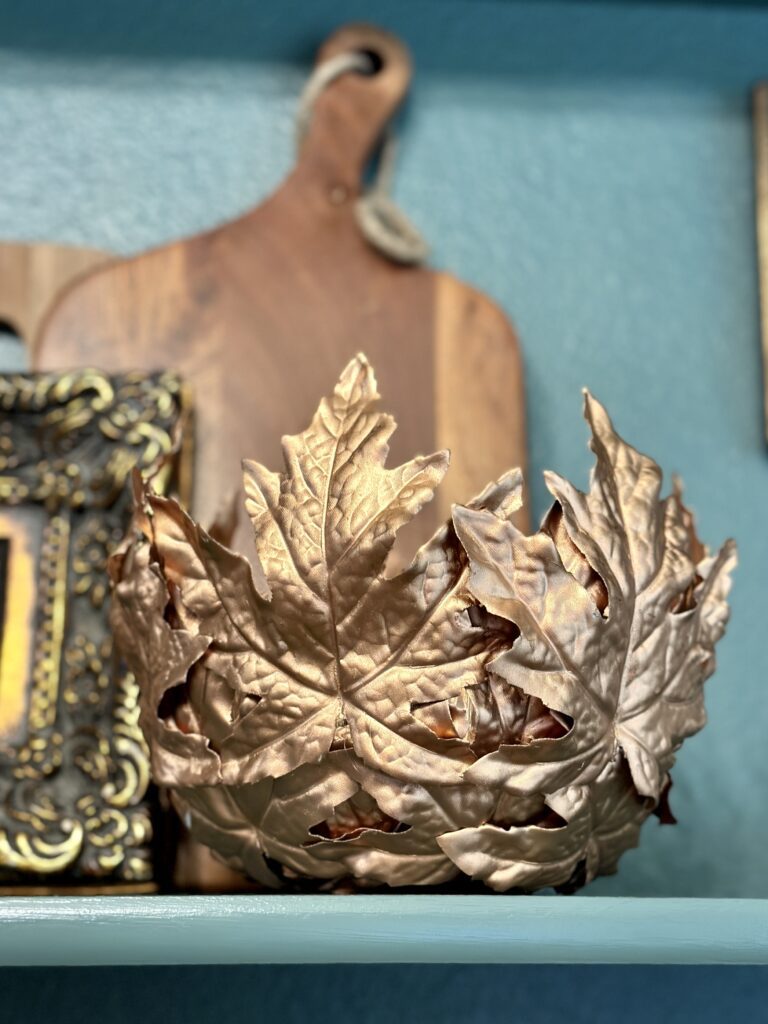 Okay, now are you convinced that you need to make this copper leaf bowl yet?
Here is the bowl on the inside view. Except for my one hot glue incident, it's pretty perfect!
Look at what my friends made too! I can't wait to try some of these ideas as well!
Happy Fall crafting!